Personal Training in Broomfield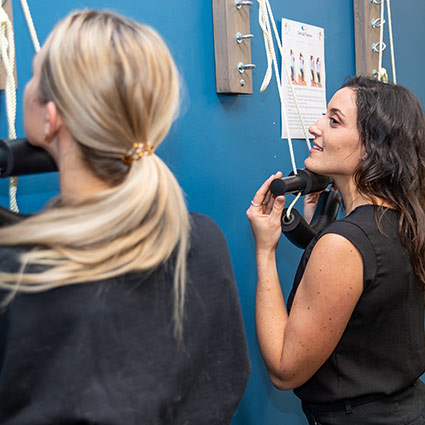 Are you seeking to take your fitness to the next level? Whether you want to run a marathon, pare those persistent pounds or strengthen your core, personal training could help you achieve your goals. We are pleased to now offer personal training at Discover Chiropractic Broomfield with Dr. Schwartz.
Helping You Achieve Your Goals
Dr. Schwartz
has been a personal trainer for over six years and has had the pleasure of training individuals of various levels of fitness and age. If you are looking for the whole body health experience of chiropractic care and strengthening your body, personal training is perfect for you.
"I offer a supportive and private atmosphere that puts the focus on your individual challenges, needs, and goals," said Dr. Schwartz. Her approach to personal training is to fix poor body mechanics and movement patterns, then build posture and strength to protect the body and prevent injury. "This is why the combination of chiropractic with personal training is optimal for true neuromuscular health and structure," she added.
What Are Some Benefits?
Here are some primary benefits of working with a personal trainer (specifically, a personal trainer who is also a chiropractor and expert in body mechanics and safety):
Increases Accountability
Undoubtedly, one of the most challenging parts about sticking to a workout routine can be exactly that—doing the workouts, and doing them consistently. By working with a personal trainer like Dr. Schwartz, you'll get the extra nudge you need to get your workout in.
Safety and Expertise
This is especially important if you are new to working out or weight lifting. There are body positioning techniques to prevent injuries and promote better posture and stability. Working out with Dr. Schwartz in a private and supervised setting is the ideal way to learn how to properly perform certain movements and exercises in order to do these comfortably on your own.
Assists with Goal Setting
Dr. Schwartz can help you establish realistic and attainable goals based on your unique experiences and abilities, helping you progress each step of the way.
Personal Training Specialties
Dr. Schwartz specializes in the following:
Weightlifting
HIIT
Mobility
Core strengthening
Corrective exercise
Strength and conditioning
Weight loss
Senior and youth
Athletes
Get Started With an Initial Consultation for Just $55!
Wondering how personal training can benefit you? Schedule an initial consultation with Dr. Schwartz. The consultation consists of a sit-down with her. She'll go over your goals, expectations, current starting point, take measurements, give you a lifestyle questionnaire, and go over any concerns you may have.
Take that first step toward elevating your fitness level. Contact Discover Chiropractic Broomfield today to schedule a consultation!
CONTACT US »

Personal Training Broomfield CO | (303) 945-4047