Meet Shawn Sisneros
Acupuncturist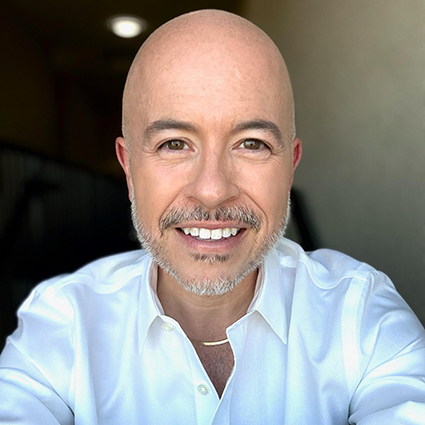 Shawn Sisneros, MSTOM, L.Ac. is a licensed acupuncturist, board certified Chinese herbalist and Human Potential Life Coach. He has over 8 years of experience in general practice treating a wide variety of conditions. However, recently his interest exists in supporting Nervous System regulation, treating stress, psycho-emotional support, treating pain and sports related injuries. Over time he has developed a gentle yet effective style that meets you where you are on your healing and recovery journey. Using a variety of treatment methods (acupuncture, electro-acupuncture, orthopedic and sports acupuncture, guasha (muscle scraping), cupping, Tui Na, and shiatsu, Shawn takes a holistic approach to your care and will take into account everything that could be impeding your healing process. Since the body is always searching for its own equilibrium his objective is to utilize his observation, palpation and listening skills to uncover what would best support you. He pays special attention to your stress levels, sleep hygiene, digestion, hydration and more to ensure this balanced approach is achieved. His goal is to not only tend to your immediate health needs, he also wants to help equip you with the necessary resources and tools so you can create the most sustainable, long-lasting changes. Approaching your care in this way can provide you with an enhanced ability to live a more empowered and fulfilled life.
Shawn has a Masters of Science in Traditional Oriental Medicine and is both licensed in the state of Colorado and nationally certified by the NCCAOM (National Certification Commission of Acupuncture and Oriental Medicine). In addition to his Acupuncture and Chinese Herbal training he is also a certified Human Potential Life Coach. Shawn received his Masters from Pacific College of Health Sciences formally known as Pacific College of Oriental Medicine (PCOM) – Chicago. He also received his BFA from The School of the Art Institute of Chicago. He is a life long student and will continue to learn and explore his academic curiosities.
The ethos of my practice is not only to treat the main condition that is presented to me but to discover the underlying patterns that are causing functional disharmony within your system. My purpose, while collaborating with you during your care, is to connect the dots to what may seem, to you, like a "laundry list" of symptoms and multiple complaints. I aim to uncover where these symptoms intersect and merge creating the discomfort you are experiencing. Through the lens of Chinese medicine and other ways I approach the body I am able to see a treatable pattern that not only addresses the acute concern, it will also treat the deeper root cause. Because the body is a dynamic and beautifully intricate system it sometimes requires extra support when faced with an acute or chronic crisis to return to its equilibrium. This is how I can support you in finding that balance.
My goal is to help you recover as soon as I can without compromising your care so you can get back to the life you want to live. – Shawn Sisneros, L.Ac., CHPC
Conditions Treated:
Migraines
Headaches
Vertigo and Dizziness
Bell's Palsy
Trigeminal Neuralgia
Insomnia
Stress
Anxiety
Depression
Muscular tension and pain
Sport related injuries
TMJ pain
Plantar Fasciitis
General aches and pain
Digestive Issues
Life Transitions
Emotional Irregularity
A note on treatment expectations:
Some conditions take longer than others to treat however there should be some noticeable change after one treatment with progressive shifts continuing to happen along the way. By the 3rd-4th treatment there should be more sustained changes and by the 5th-6th treatments there will be noticeable sustained shifts. Then, only occasional treatments, if needed, will be necessary to facilitate your body's ability to heal. However, there are exceptions to this, if and when there is need to be referred out for other supportive care Shawn monitors this along the way and will have an open discussion with you about his recommendations.

Shawn Sisneros | (303) 945-4047