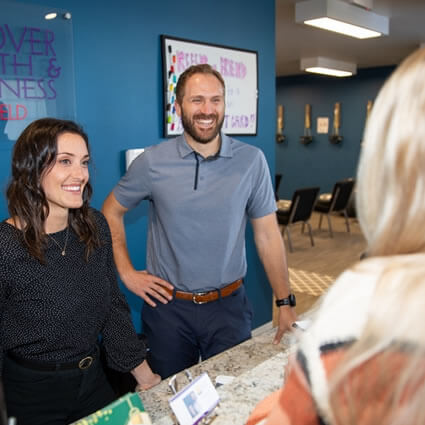 Discover Chiropractic Broomfield Reviews
What Our Broomfield Patients Say
At Discover Chiropractic Broomfield we love when patients share with us their feedback and comments after chiropractic care. Please read our patient testimonials below to see what other people have achieved through their tailored treatment plans with us.
Share your stories too! Click here to send us your feedback so that we can help to spread the word about the benefits of natural Discover Chiropractic Broomfield care. For more information, or to schedule an appointment contact us today.

Cheerleader for Health
Dr. Nye is probably the best chiropractor I have ever had. I was a patient of his in Michigan and was sad to see him leave. He was always thorough and took an interest in keeping my body functional. I have never felt rushed when I had an appointment with him, and he always took my concerns seriously and gave advice on my part in improving my body's functionality. I highly recommend him to anyone who is looking for long-term improvements in their health. Broomfield residents are gaining a cheerleader for their functional health!
— Kari F.
Focused on My Care
Dr. Nye is one of the most caring & knowledgeable Chiropractor's I have ever gone to. He always knows exactly what I need & takes time to explain what he is doing. I have never felt rushed during my appointment and always feel he is 100% focused on my care.
— Mindy S.
I Trust Them with My Health
Absolutely one of my favorite chiropractors. They are both very knowledgeable and make a great team. Since starting treatment in 2021, my back and posture has improved significantly. I've had bad experiences with chiropractors including being hustled for money with receiving treatment for a serious car accident. I trust them with my health and I would recommend them to anyone!!!
— Anura M.
Highly Recommend
I'm very pleased with my care in this office. Walking in, I am greeted with warm smiles and friendly conversation. The one particular reason I came to this office is because they do x-ray's and are diligent with examination. They don't dive and start slinging limbs around without proper examination, they do it the right way.
I also had some issues with my feet once I started walking the trails and increased walking at work. After seeking out several different doctors with little or no pain relief, I asked if I could get my feet adjusted. After several adjustments to my ankles and toes, I have NO more pain after suffering for more than a year. I highly recommend this office!
— M N.


Discover Chiropractic Broomfield Reviews | (303) 945-4047